Table of Contents
MatriarchMatch.com Safety Tips: Ensuring a Safe and Enjoyable Dating Experience
Welcome to MatriarchMatch.com, your premier destination for finding meaningful connections and lasting love. Your safety is our top priority, which is why we've created this comprehensive guide to help you navigate the world of online dating with confidence. We believe that being informed and prepared is key to ensuring a safe and enjoyable experience. Read on to discover our top safety tips, and remember, we're always here to support you throughout your dating journey.
Online Safety Tips
Protect your personal information:
Be cautious about sharing personal details such as your full name, address, phone number, email address, or place of work.
Use MatriarchMatch.com's messaging system to communicate with potential matches, as this helps protect your privacy.
Don't feel pressured to share personal information before you're comfortable doing so.
Choose a strong, unique password:
Create a password that is difficult for others to guess.
Avoid using easily identifiable information, like your name, birthdate, or common words.
Change your password regularly and never use the same password across multiple websites.

Beware of phishing and scam attempts
Be cautious of messages asking for personal or financial information.
Watch for inconsistencies in a user's profile or messages, which could indicate a scammer.
Report suspicious behavior to MatriarchMatch.com immediately.
Be cautious when clicking on links within messages, as they may lead to malicious websites.

Report suspicious users and behavior
If you encounter a user who seems suspicious or makes you feel uncomfortable, report them to MatriarchMatch.com.
We take all reports seriously and will investigate and take appropriate action.

Keep your computer and devices secure
Install reputable antivirus software and keep it up to date.
Use a secure, password-protected Wi-Fi connection when accessing your MatriarchMatch.com account.
Be cautious when using public Wi-Fi or shared computers, as your information may be vulnerable.

Communication and Trust
Take your time
Don't rush into sharing personal information or meeting in person.
Take the time to get to know a potential match through messaging and phone calls before deciding to meet face-to-face.

Trust your instincts
If something doesn't feel right or a person's actions or words don't match their profile, trust your intuition.
Don't hesitate to end communication or report any suspicious behavior.

Be honest in your profile and communications
Represent yourself accurately in your profile, including using recent and clear photos.
Be honest about your intentions, interests, and what you're looking for in a match.

Ask questions and verify information
Don't be afraid to ask your match questions to get to know them better.
Verify information by doing a quick internet search or checking their social media profiles.

Watch for red flags 🚩
Be cautious of users who are overly eager to meet in person, ask for money or gifts, or pressure you to share personal information.
Pay attention to inconsistencies in a user's story or any signs of manipulation.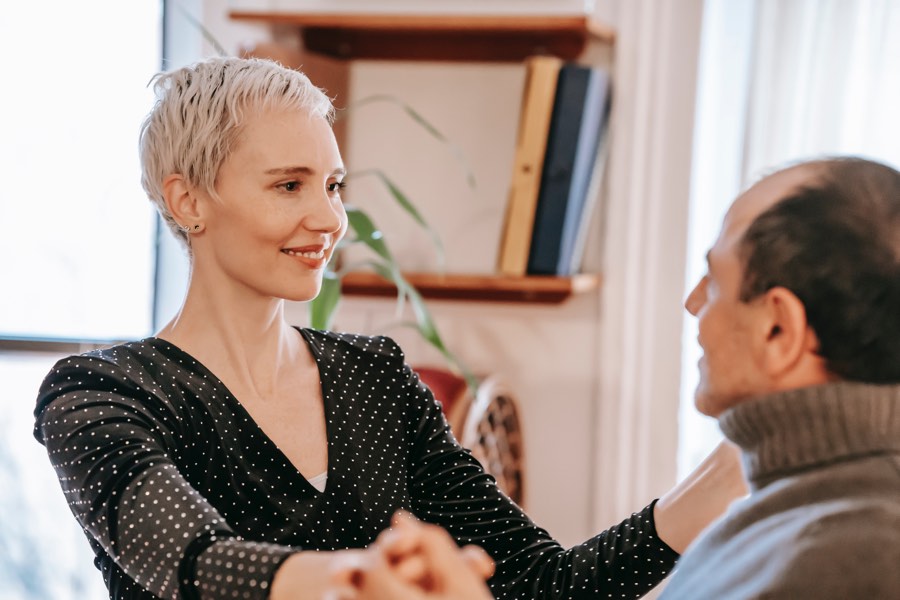 Meeting In Person
Select a public venue for your first meeting
Opt for a bustling, well-lit location for your initial encounter with your match.
Refrain from meeting at either your residence or theirs, and avoid isolated or private areas.
Inform a trusted friend or family member about your plans:
Share details of your date with someone close to you, including your match's name, the location of your meeting, and any other relevant information.
Consider arranging a specific time for your friend or family member to check in with you during the date.

Arrange your own transportation to and from the meeting
Be responsible for your own transportation, whether by car, public transit, or rideshare service.
This ensures that you have control over when you arrive and leave, and it prevents your match from knowing your home address.

Maintain awareness of your surroundings and stay vigilant
Be attentive to your environment and trust your instincts during your date.
If something feels off or makes you uncomfortable, don't hesitate to leave or ask for help.

Limit alcohol consumption
If you choose to drink, do so responsibly and within your limits.
Staying sober helps you make clear-headed decisions and maintain control over your situation.

Keep your personal belongings secure
Keep an eye on your personal items, such as your phone, wallet, or purse, at all times.
Avoid leaving your belongings unattended, as this could put your personal information at risk.

Practice safe physical contact and consent
Ensure that both you and your match are comfortable with any physical contact during your date.
Communicate openly and honestly about your boundaries and respect your match's limits.

Have a plan for unexpected situations
Be prepared for potential emergencies by knowing the location of the nearest exit, having a charged phone, and carrying some cash.
Familiarize yourself with local resources, such as emergency services and public transportation, in case you need them.

Follow local health guidelines and recommendations
Stay up-to-date with any health and safety protocols in your area, and follow them accordingly.
This may include wearing a mask, maintaining physical distance, or confirming vaccination status.

Provide feedback to MatriarchMatch.com after your date
Share your experiences and any concerns with our team to help us ensure a safe and enjoyable environment for all users.
Your feedback is valuable in helping us improve our services and address any potential safety issues.
At MatriarchMatch.com, our top priority is ensuring the safety and well-being of our users. By following these comprehensive safety tips, you can take essential steps to protect yourself and make the most of your online dating experience. Remember, trust your instincts, be cautious with your personal information, and communicate openly and honestly with your potential matches.
As you navigate the world of online dating, always prioritize your safety and comfort. If you encounter any issues or have concerns, do not hesitate to report them to our team. We are here to support you in your journey to finding meaningful connections and lasting relationships.
We wish you the best of luck in your search for that special someone, and we hope you find the love and companionship you're looking for on MatriarchMatch.com!